HEALTH UPDATE STAGE 4 LOCKDOWN: COVID-19
2020 has certainly been a very challenging year with Covid-19 heavily impacting our ability to provide eyecare for the people of Melton and surrounding community.
Under Stage 4 lockdown as per Department of Health guidelines our practice is open for urgent and essential eye care.  This includes patients with:
A sudden loss of vision
Pain or redness
Seeing halos or circles around lights
Experiencing new floaters or flashes of light
Bulging or swelling of the eye
Double vision
Sudden and persistent blurred vision
Patients with chronic conditions that have a care plan in place
Patients with chronic conditions that are at risk of deterioration
If you have any vision or eye health concerns and would like to book an appointment with our Optometrists Mario or Sami, please call us on 9743 1527 to discuss your needs with one of our friendly receptionists.
The health of our staff, patients and community is paramount, so we have implemented additional health and safety protocols to keep you safe within our practice, such as: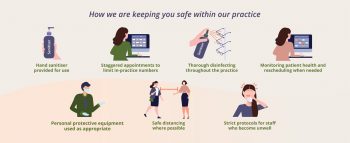 Hand sanitizer provided for use upon arrival
Breath shields on our reception desk and on our testing equipment
Social distancing where appropriate
Staggering appointments to limit the amount of people in the practice
Personal protective equipment used as appropriate
Thorough disinfecting throughout the practice
Monitoring patient health and rescheduling when needed
Strict protocols for staff who become unwell
If your glasses need an adjustment or repair, you are welcome to drop in anytime, but please be mindful that if there are already more than two patients in the waiting room you will have to wait to come inside the practice. You can also order contact lenses online through our website, or by calling us.
As always, Stefani, Lynette, Misty and James would be happy to answer any further questions you may have.  We look forward to seeing you in the Practice soon.
Click here to book online today